Promised entry part two
The mix...




The shaped dough.




Glazing...




Done!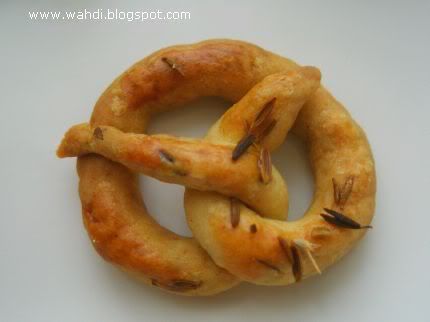 Caraway Pretzels - My Mum's recipe

1 1/2 cups all-purpose flour
1/2 teaspoon baking powder
1/2 teaspoon salt
1/3 cup butter, softened
1 tablespoon caraway seeds
4 tablespoons boiling water
1 egg white, very lightly beaten

Preheat oven to 350F (175C). Grease several baking sheets with butter. Sift flour, baking powder and salt into a medium-size bowl. Cut in butter untiul mixture resembles fine bread crumbs; mix in 1 teaspoon of caraway seeds. Add boiling water; mix to form a soft dough.

Knead dough lightly on a floured surface until smooth. Divide into 36 equal-size pieces. Take 1 piece of dough, shape into a long thin strand about 8 inches long. Bring ends around to form a loop; cross over then take back up to top of loop. Press ends firmly into position to secure. Place on prepared baking sheet. Repeat with remaining pieces of dough.

Brush pretzels with egg white; sprinkle evenly with remaining caraway seeds. Bake 18 to 20 minutes or until browned. Carefully remove from baking sheets to wire racks; cool.

Makes about 36 pretzels.

*****************************************

Ice Spa...

Ahrisaa Health Beauty Center
1st Floor #01-11 Block Begonia (A),
Pangsapuri Saujana Puri,
Bukit Katil,
75450 Melaka
MELAKA

Tel/Fax: 06-232 1943
H/P: 016-219 0510
Email: ahrsecret.collagen@yahoo.com.my


En Arip during the spa treatment. This is the first stage of soaking of the feet in ice water..