Cameron Highlands - Morning walk
Fraser's Hill is now undergoing a massive reconstruction. It is not worth your effort and time to go up there at this moment... On a previous trip, I had a really quality weekend up there.
We made a final decision to go to Cameron Highlands last Saturday noon, since I was in the mood to spend my weekend overnighting somewhere chilling, and to have good hawker food in the cold night. And the whole week prior to that, En Arip had been longing for some great hot tea and scones at the Boh tea plantation ;)
I'll upload some pictures from Fraser's Hill later, just to be fair... although it was a disappointing trip. LOL
The following morning, we left the hotel room as early as 7.30 am. The plan was to visit a vegetable farm, and to have some tea at the tea plantation. So, we decided to go to the Boh tea plantation at Tanah Rata. We had also gone to the Boh plantation at Sungai Palas later in the afternoon, but that is another story.
We parked the car at a few stops, and started walking... What a lovely morning to enjoy the fresh air and view!
We walked across a mint farm.. OMG! Refreshing scenery and fresh (Colgate?) smell!
This is Abu, a friendly Bangladeshi guy who has been working at this farm the past two years.
Daun bawang (spring onion) plantation...
An old taxi. I simply luv to capture shots of abandoned cars... To me, they make very interesting subject matters. Btw this pic was taken by En Arip.
As usual, En Arip prefers to walk... leaving me to drive alone...
Nice breakfast with a great view...
En Arip finally tucking in a totally blissful breakfast, as he had wanted all week long!
We shared our breakfast with some birds too ;)
I want that house! LOL
Budding tea leaves...
Lovely little brook making its way through the tea bushes...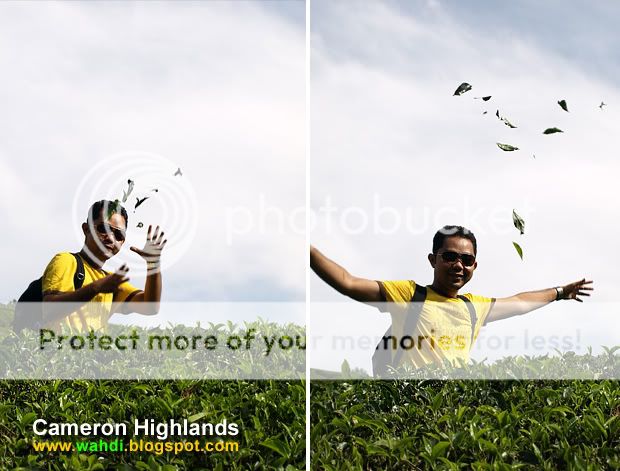 And finally, aksi jakun hehehe