New Cat
Today is the third anniversary of the day I sold my lovely Persians, Grizabella and Sir Duke, to a lovely couple from Hartamas. I have lost contact with them, so I have no updates about Grizabella and Sir Duke. I hope they are doing well now...
Grizabella (female)- Bought her from a pet shop in Taipan USJ, the one facing Watson... They always offer beautiful cats for sale. If u are looking for majestic-looking cats, this shop is your solution!
Sir Duke (male)- Bought him from Ziana Zain's neighbour at Kayangan Heights, Shah Alam.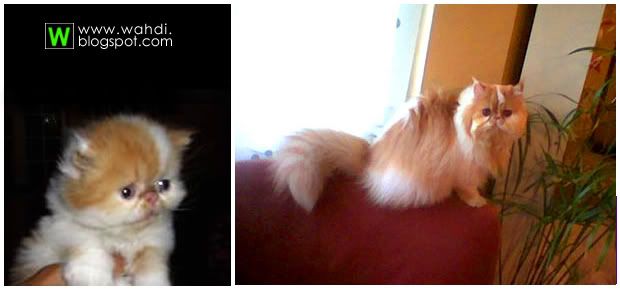 Anyway, after long time, I've decided to have a pet cat again. But this time, I'm not looking for long hair and flat face cats anymore. NOOOOOO..... I just don't have the time for the tedious daily grooming tasks - cleaning the tear stains, brushing their long fur, etc. ... That's the reason why I had sold Grizabella and Sir Duke.
Was thinking to get a British short hair from the pet shop, but I haven't seen any worthy ones at the moment... If u guys have a domestic kitten up for adoption, that will be cool! *wink*
No more stray cats from the streets. I had a bad experience where my other cats died due to FIV+ infection from the stray cat I brought home..
So, if u have a healthy kitten that can be adopted, let me know. If possible, I prefer it in solid black or blue colour... alamak memilih lah pulak eh?