Promised Recipe.
Dah banyak kali kan i ckp 'later i share' resepi yg u guys mintak tu kan?
tapi takde juga kan? mesti korang kata kedekut hahaha
btw bukan kedekut cuma tak sempat nak wat entry tu. Anyway ini dia resepi yg dijanjikan.
Szechuan Soup ala Wahdi :P
Ingredients:
1 cake tofu (fresh, kalau boleh)
2 ounces beef
Marinade:
1 teaspoon soy sauce
1/2 teaspoon sesame oil
1 teaspoon cornstarch
Other:
3 - 4 Chinese dried black mushrooms or fresh mushrooms
(kalau yg kering rendam dulu semalaman ye kengkawan, kalau yg fresh lap guna kain bersih yg basah shj)
1 carrot
( since i tak suka bamboo shoots )
6 cups water (or 6 cups water and 1 cup chicken broth)
1 teaspoon salt, or to taste
1 teaspoon sugar
2 tablespoons soy sauce
1 teaspoon sesame oil
1 Tbsp cornstarch dissolved in 1/4 cup water
1 egg, beaten
( i suka guna telur sikit, so ikut citarasa masing2 yer)
1 green onion, finely chopped
few drops of vinegar
White pepper to taste (no more than 1 tablespoon)
Last sekali,
20 biji cili padi
( mostly diorg pakai Hot chili oil )
Preparation :
1- Mix marinade ingredients and marinate beef for 20 minutes.
2- Bring the water to a boil. When it is boiling, add the slices carrot, mushrooms, and Stir.
3- Add the slices tofu. Bring back to a boil and add the marinated beef.
Stir in the salt, sugar, soy sauce and vinegar and sesame oil.
Test the broth and adjust the taste if desired.
4- Mix the cornstarch and water. Slowly pour the cornstarch mixture into the soup, stirring while it is being added. Let the broth come back to a boil. As soon as it is boiling, remove the broth from the stove.
5- Slowly drop in the beaten egg, (tarik tinggi2 ye biar dia jatuh mcm benang)
stirring in one direction at the same time.
6- Add the green onion, cili padi and the white pepper to taste.
Siap!!!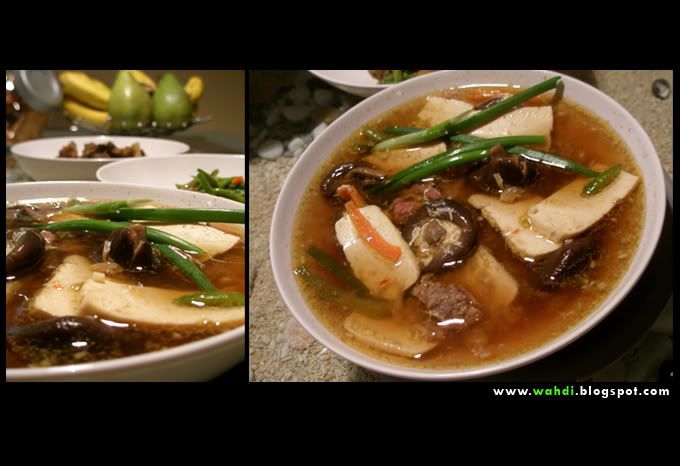 My Szechuan soup. Inilah hasilnya, since i suka pedas i lebihkan cili api, dan tak suka telur banyak so i kurangkan telur.


Selamat mencuba!!!

*jgn mintak resepi tapi tak cuba! :P