Sydney Fish Market
*Korang asyik tanya entry makan2 kan? ha ni dia ;)
We went to the Sydney Fish Market the day after the tiring trip to Blue Mountains. Owhh... I was really excited to eat as much seafood as I wanted there hehe ;)
We decided to walk to the fish market from our hotel instead of taking public transportation. It would've taken us about 30 minutes, if not for the few stops on the way there... But we did reach there 3 hours after we left the hotel... Why? We stole time to visit the Princess Diana Exhibition! What a exceptional show about her life!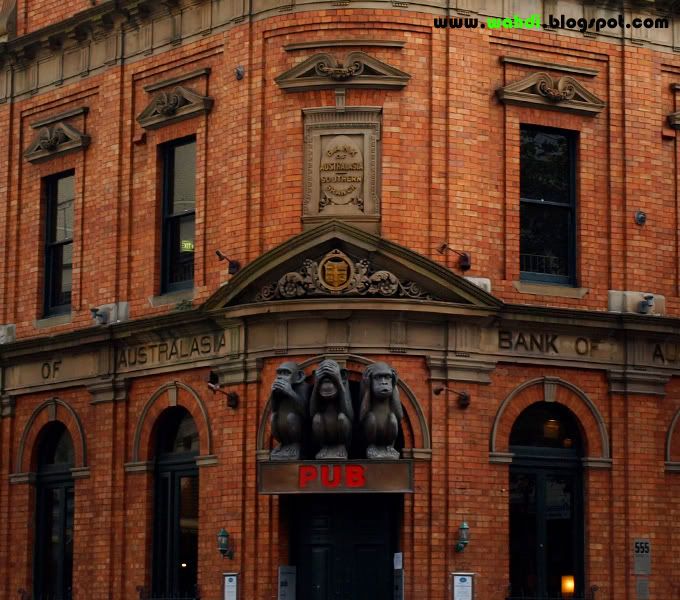 The Bank of Australasia building. I was actually taking shots of a coffee signboard nearby, but a homeless man shouted at me and said, "There are monkies jist abov' there, and u should take their pic!" His chuckle hid the bitter bite of pre-winter cold...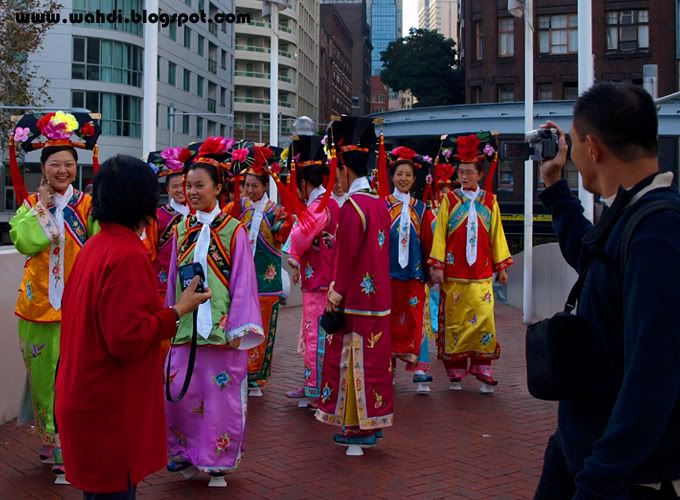 We walked toward Darling Harbour, and bumped into this group of Chinese ladies (concubines?). They were headed for some Buddhist celebration just outside the Chinese Garden of Friendship...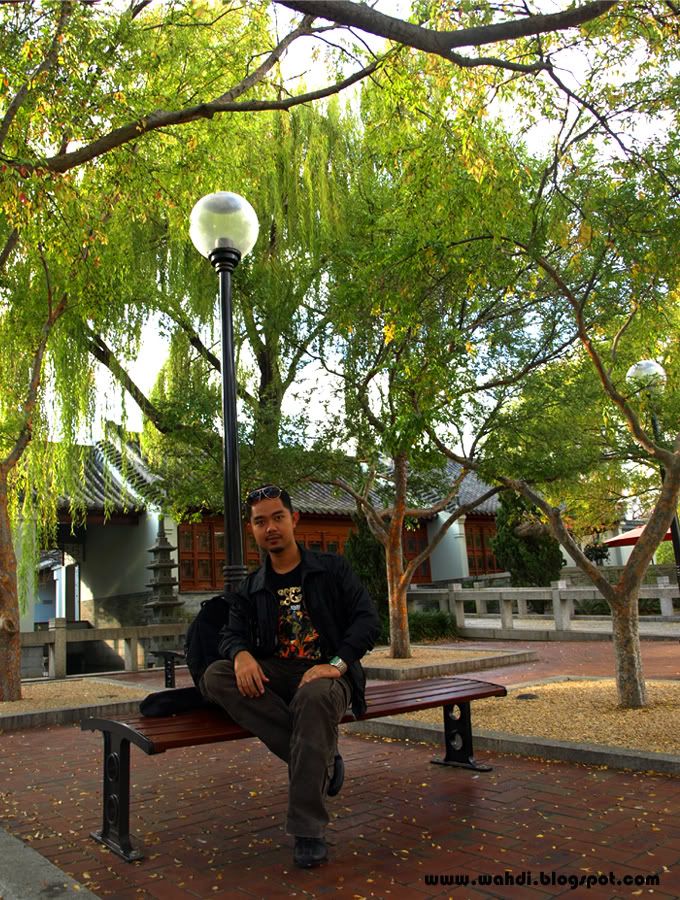 After a 15-minute walk, we took a rest at the Chinese Garden of Friendship...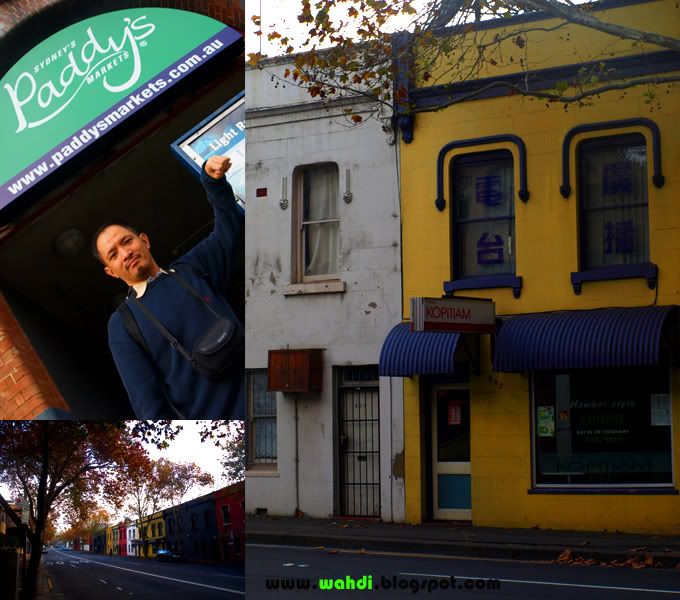 We continued walking... and the traffic was so clear... We managed to visit Paddy's Markets, too...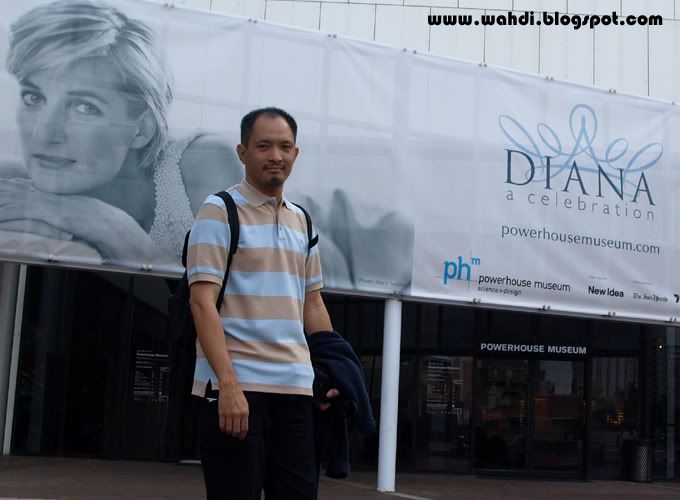 What a shocking delight! There was a Princess Diana exhibition at the Powerhouse Museum. This is a must! While the exhibition at London's Kensington Palace was mainly to showcase her glittery costumes, this one was more about her life as an aristocrat, a princess, and a commoner... Too bad no cameras were allowed inside :( We spent almost one hour here.
Finally, we reached the Sydney Fish Market! These were the shop lots outside the fish market...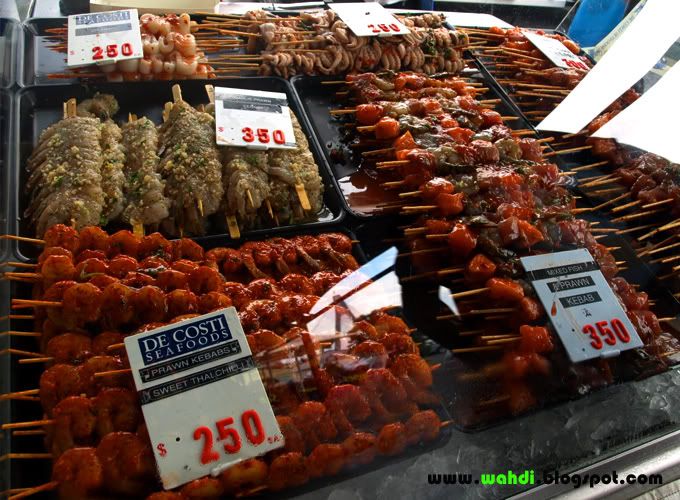 Owh!! A must-try seafood kebab!!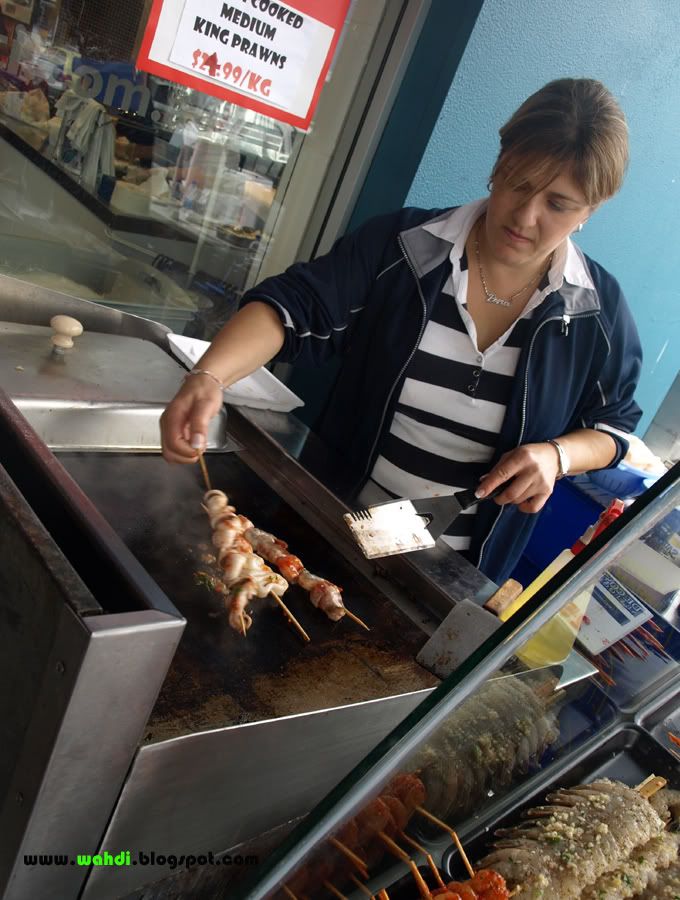 The lady gave us a discount, We had 6 pcs per person...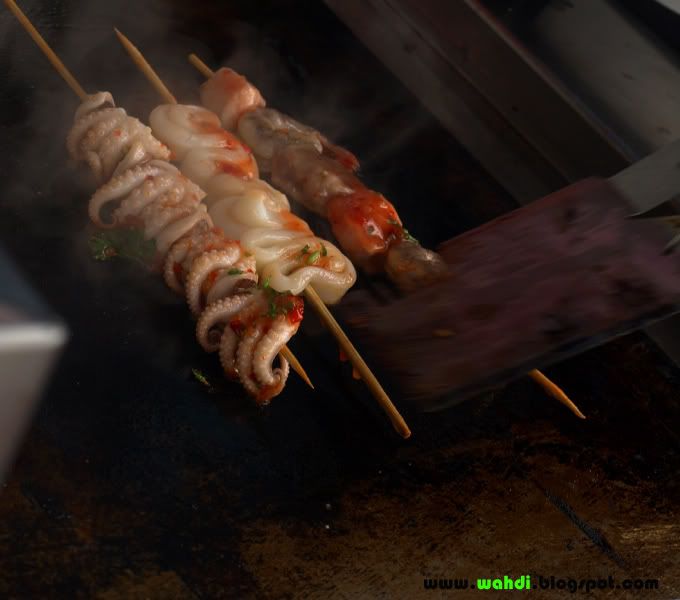 Great service too, she grilled the sticks one side at a time, and served them hot! Yummy!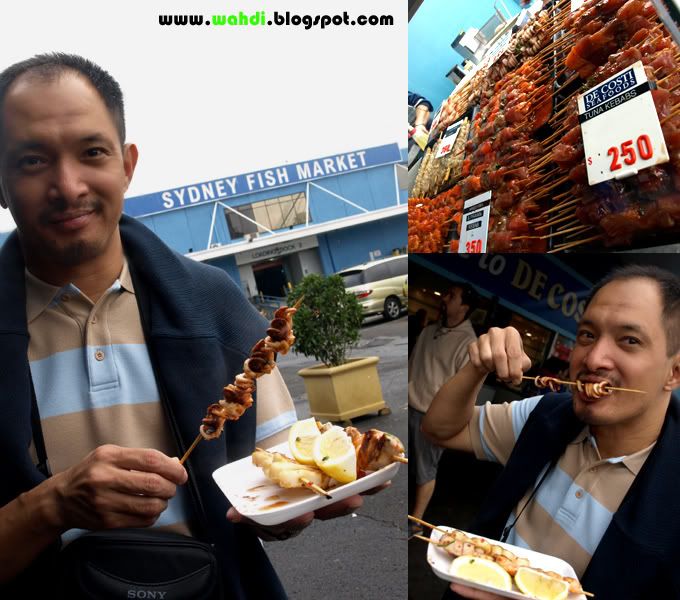 En Arip beating the heat to finish his 1st helping...yummy kan, En. Arip?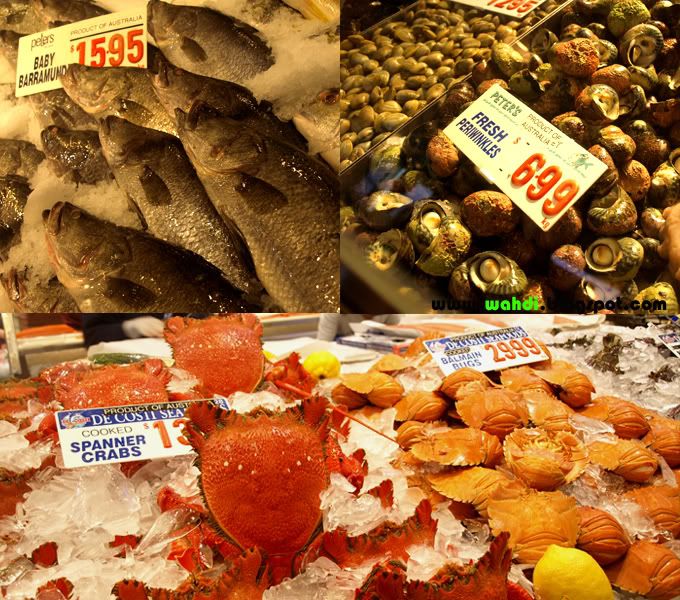 Sea harvest on racks...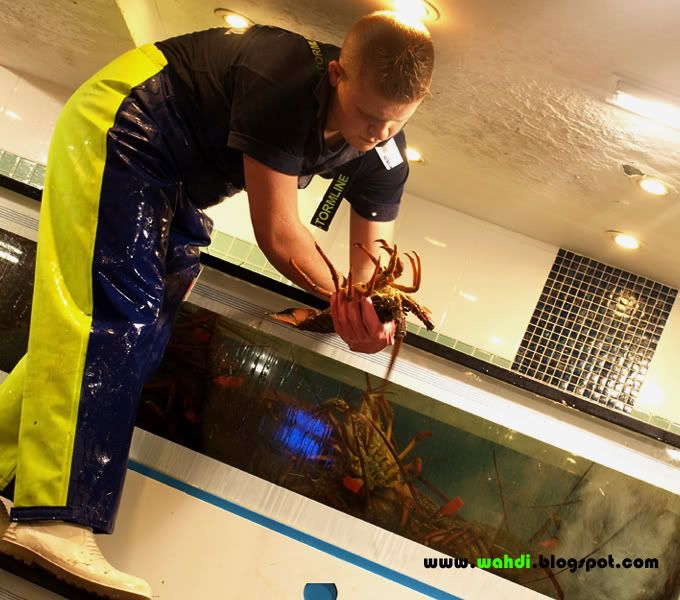 We went on to have a lobster!
We had the lobster half baked in cheese, and the other grilled on a hot plate. Cost us just AUD28!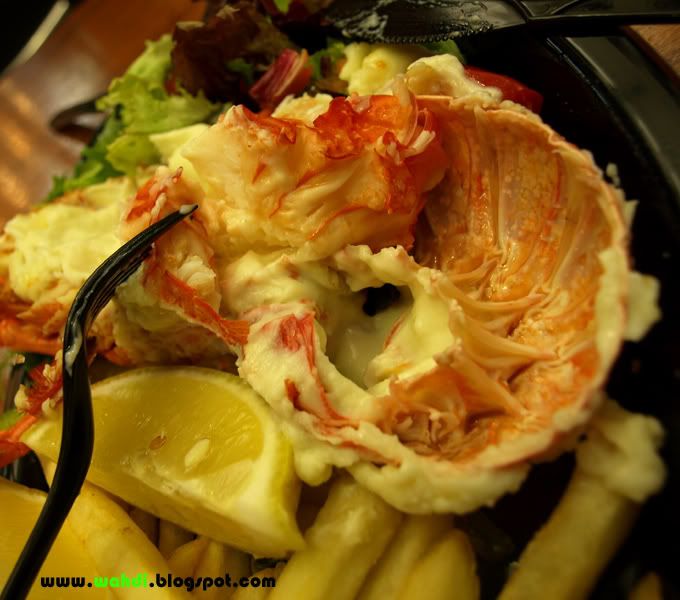 It was so worth it! The lobster was juicy and fresh!
We shared a grilled barramundi... so devinely delicious! This one was only AUD23.
We continued exploring the fish marked, and had coffee at this cafe, but it did not taste so good... En Arip's macchiato shot was overly strong.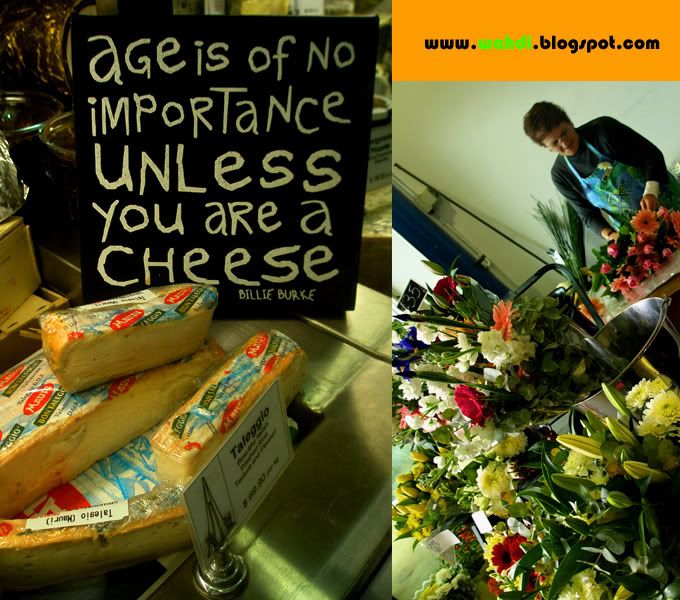 And the exploration continues... What a cute tagline for the cheese!!!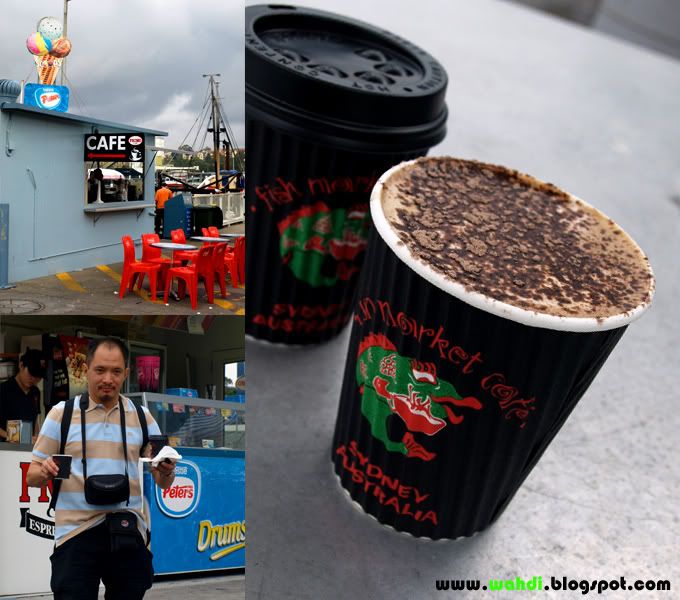 Actually, the best coffee served at the Sydney Fish Market could be found at this little kiosk...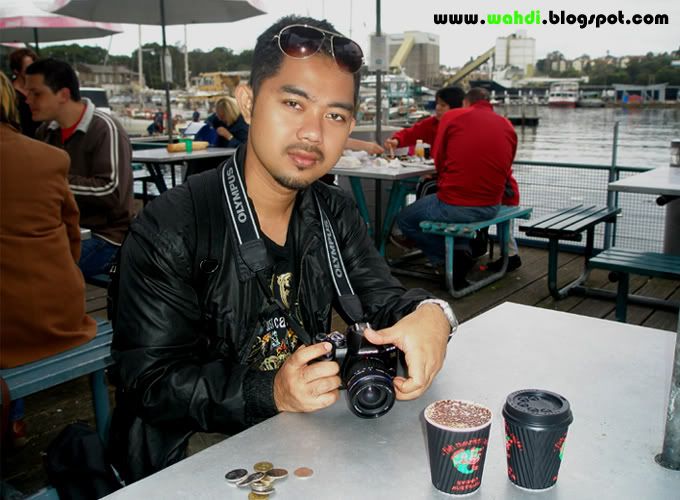 I was full by this time... Btw the coffee here were really good!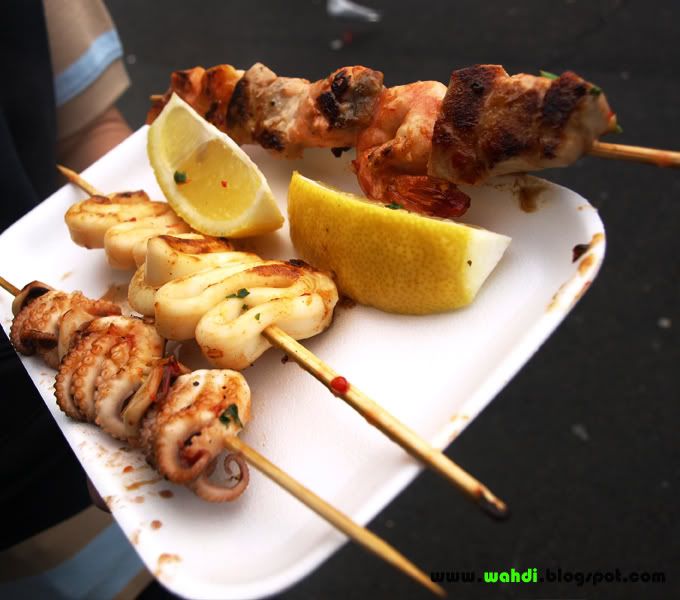 But, we had kebab again for one last round before we left the fsh market... Haiyoh cannot tahan lah...so yummy!!!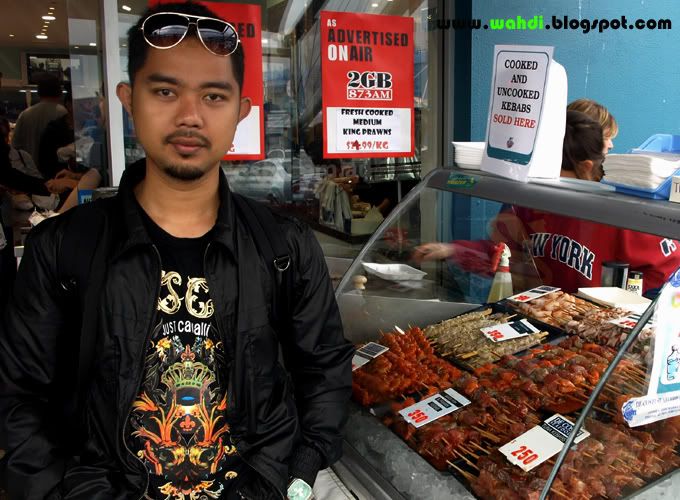 The cashier luv my "just Cavalli" t-hirt so much! Huhuhu...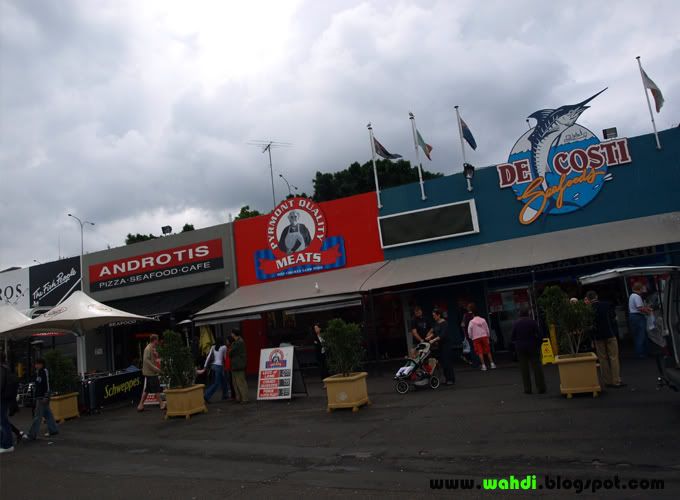 And we left the fish market after spending almost 2 and a half hours there... What a must-visit in Sydney!
The fall of the Chinese concubine, huhu watch the clip below ;)