Bondi Beach, Sydney!
The next morning we woke up early as usual. What a waste to waste time by sleeping eh? At 7 AM. I went to the grocery shops on Oxford Street, while En. Arip went to the nearest coffee shop to get some good coffees. I bought the ingredients to make some "homemade" sandwiches... Huhu... we had actually planned to spend the whole day on Bondi beach, and the small town surrounding it. So I planned to bring extra sandwiches for our little "picnic". Can't wait to do some sunbathing, and read a good book by the beach...
I had forgotten to take the pic, but it definitely looked like this... These were the sandwiches I made when we were in Gold Coast.
Getting ready for Bondi. We rented this car.. hohoho Noooo! This was someone's car parked in front of our hotel. I simply luv how the owner has maintained this car.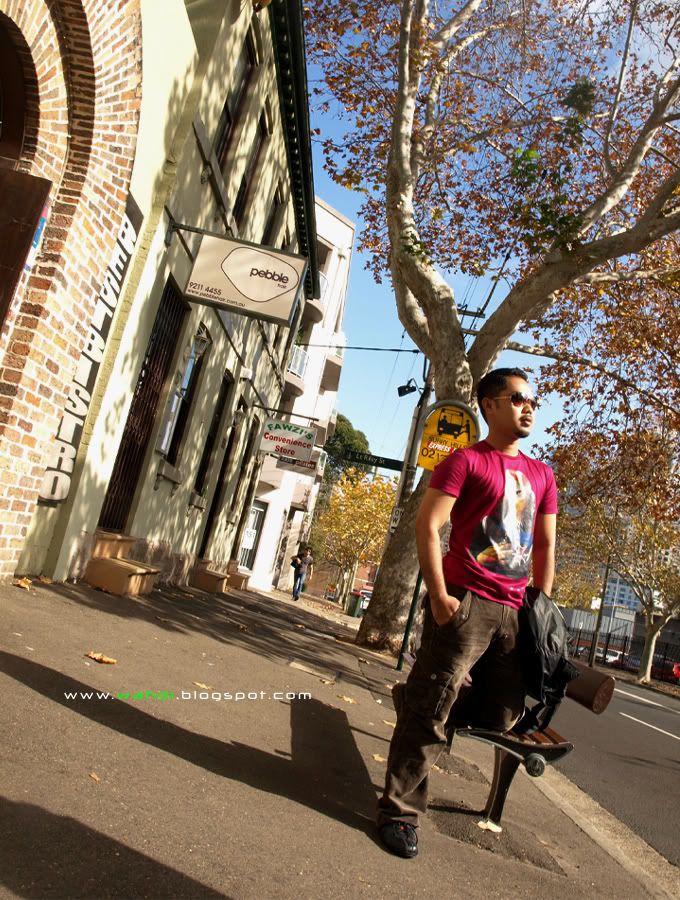 We actually took a bus to Bondi. Striking a pose while waiting for the bus ;)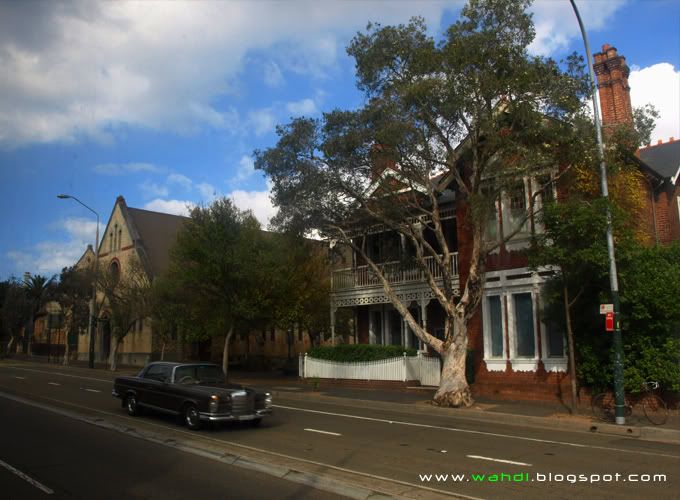 The view from the bus. Another old car! How did they keep their car in such good shape, and looking so fabulously charming? *This is one of my favourite pics.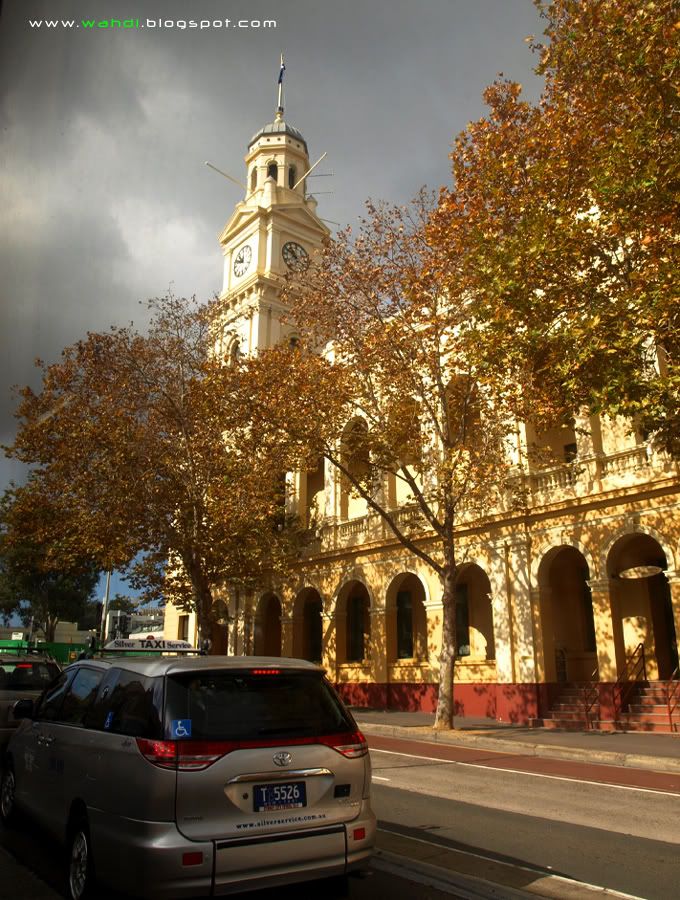 Actually, the sky wasn't that dark... it was the glass tint on the bus windows that gave it the gloomy effect.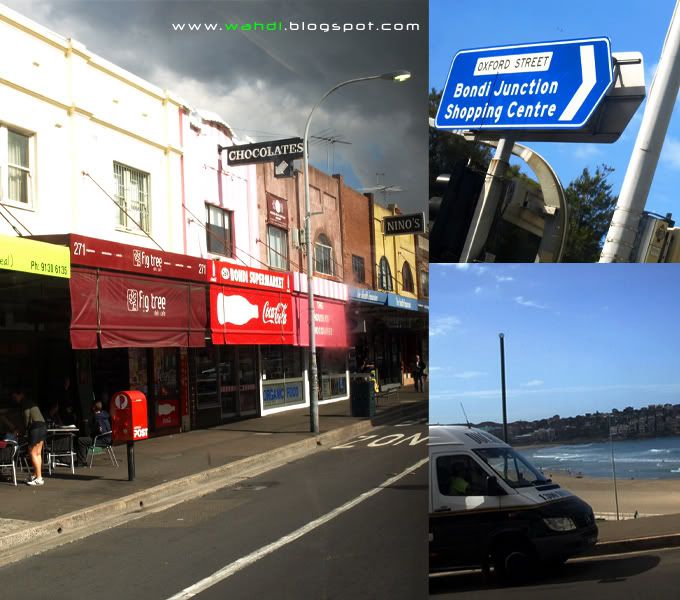 Another view from the bus. Finally, I could see the beach!!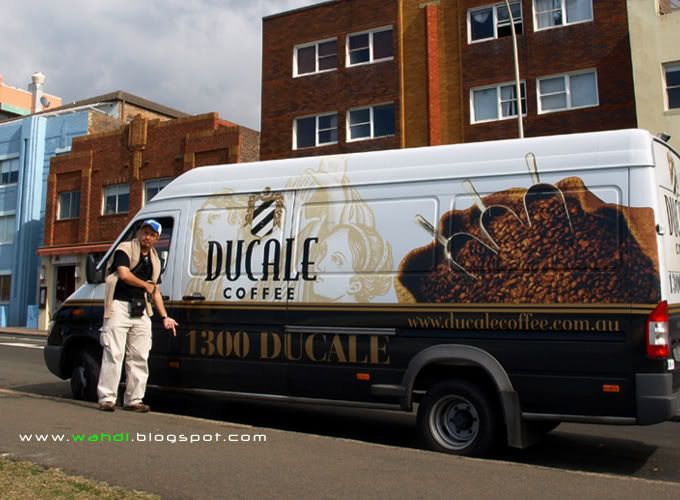 En. Arip was so excited to pose with this coffee van. He had chased it for 100 meters!
That's the Bondi beach behind me... Owh the wheather was so great~!
We didn't bring along any swimming trunks, so we decided to get them first. But before we could do that, we bumped into this seafood shop below!!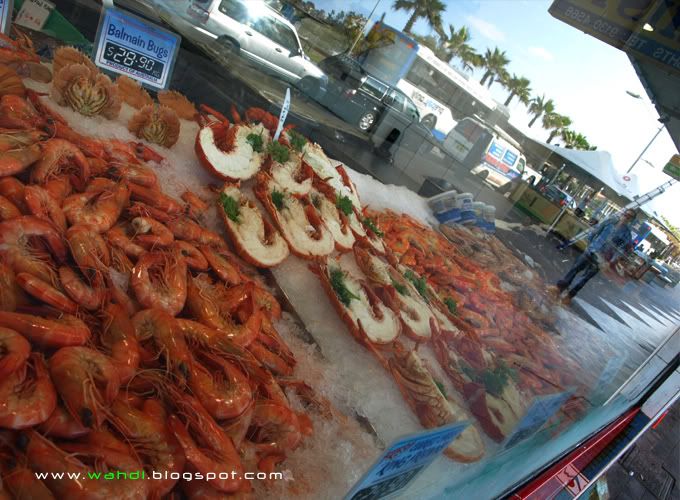 Bondi Surf Seafood! En Arip said he couldn't resist it when he saw the prawns on display, which had suddenly made him felt hungry. So we had an early lunch!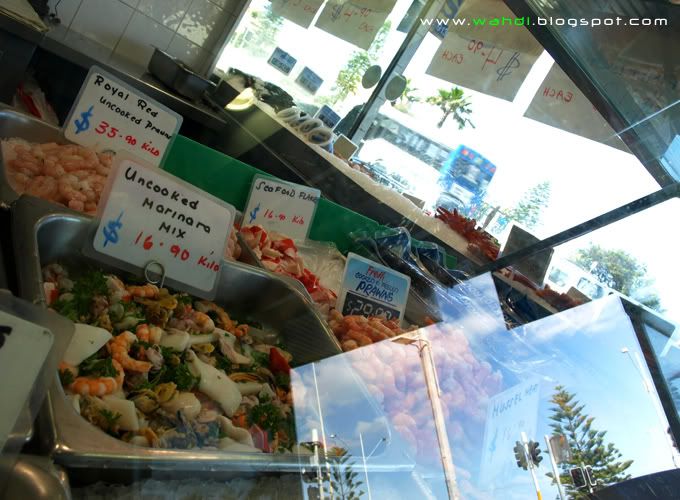 Everything looked so tempting and nice that I forgot about my packed sandwiches! Hehehe!
We had these simple items. I ordered the grilled calamari with chips, while En Arip had buttered prawns with chips. Owh... the portions were huge! We had also shared a large helping of yummylicious marinara salad.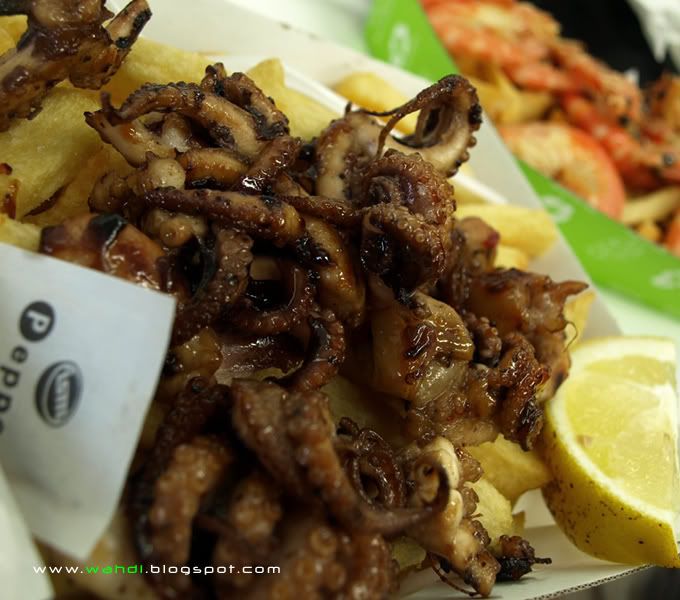 Owh... simply delicious!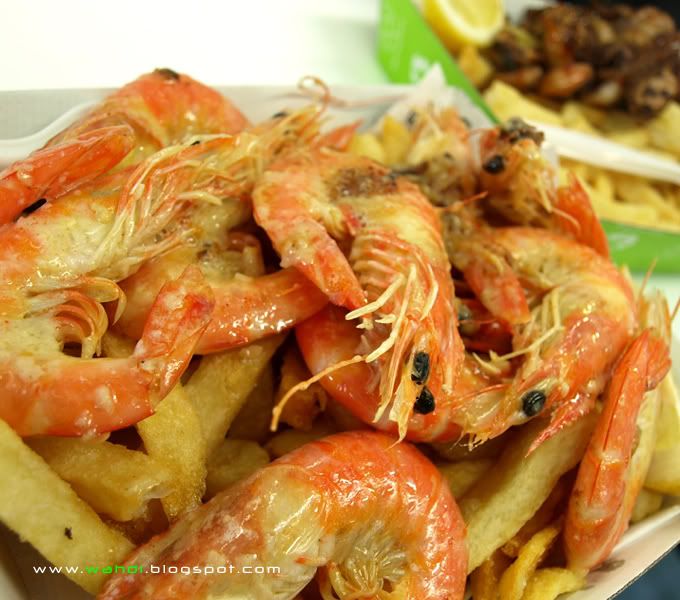 En Arip's buttered prawns looked delicious, too! So yummylicious! The butter smelled really great and tasted even better!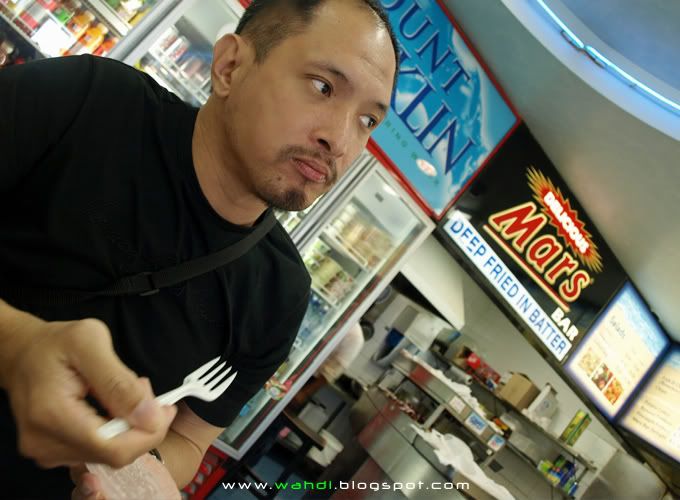 They also served the world-famous fried Mars in batter, too! But I couldn't put any more into my stomach.. I was so full!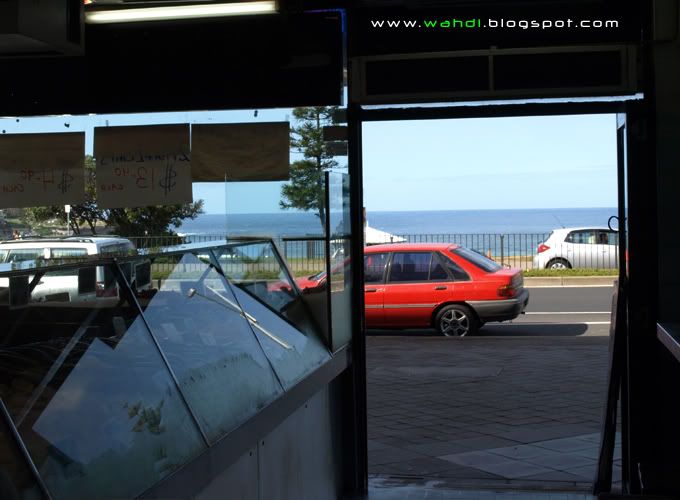 I could smell the sea... These are the shops facing the beach...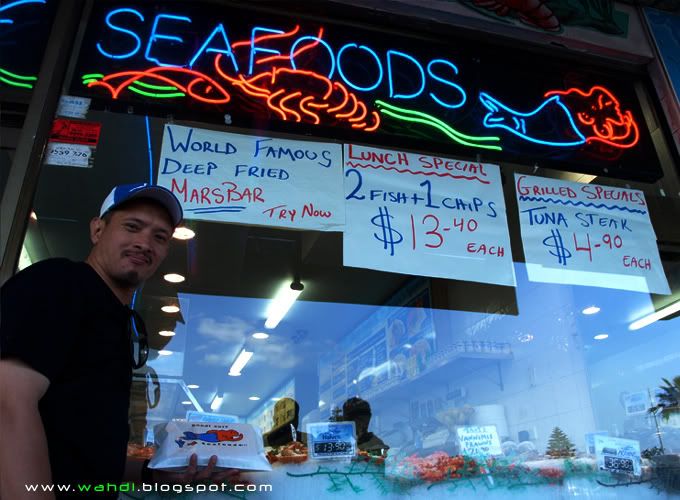 En Arip was so satisfied with what he had, and even packed some mixed seafood grills. We give this shop 5 out of 5 stars! It is a must visit if u guys go to Bondi!
And we continued hunting for our swimwear.
Huhu... Aussieboy is better than Aussiebum? Owh, girls... let us do our innerwear shopping first, OK?
Kasih
org laki pun memilih yer pakaian dalaman, tapi tak ler spent time lelama:P
Owh... must get some Bonds, too! That's as Aussie as you can get! En. Arip bought some by the dozens! They are cheaper than buying on-line!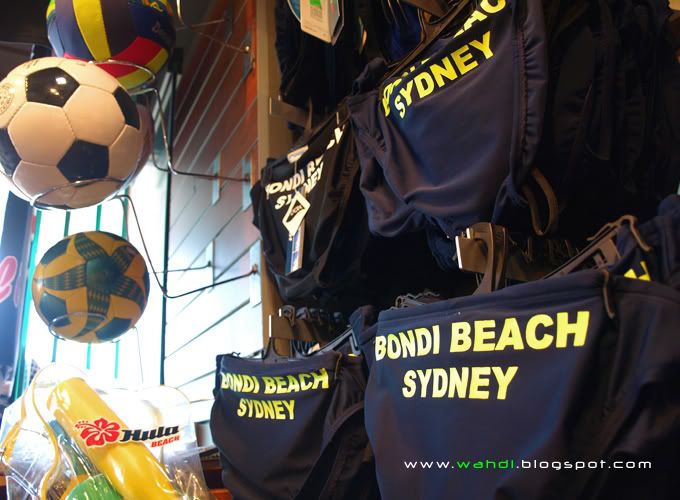 Yeah, finally found the right swimming trunk! But we bought those which covered our "modesty" lah :)
O.k, beach time!!! It was autumn, so the water wasn't good for swimming. But at least we must spend some time in the water, kan?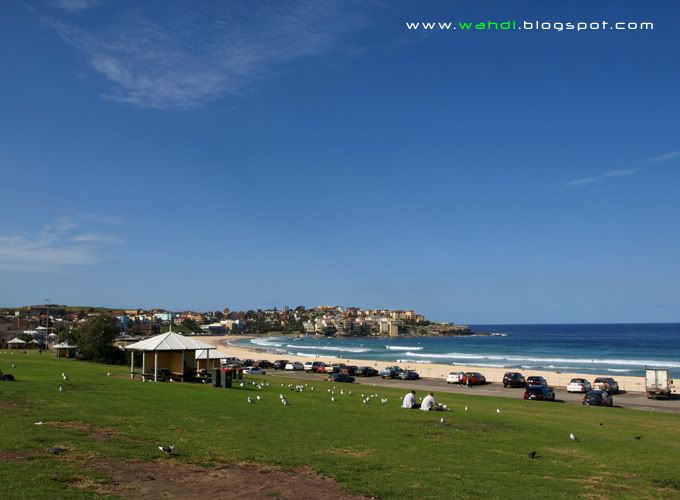 Bondi beach~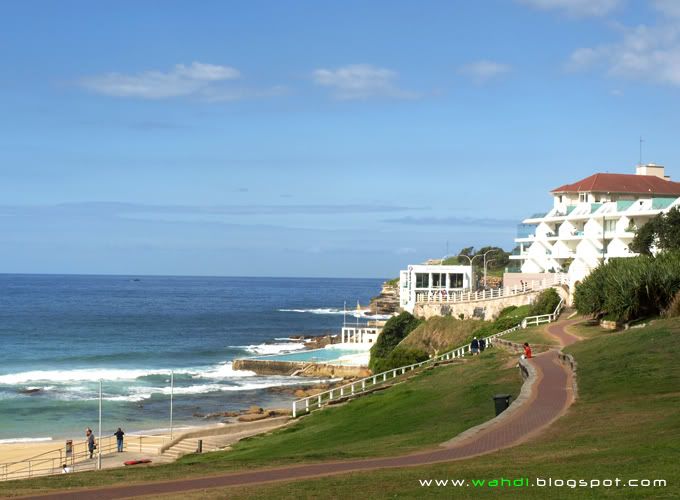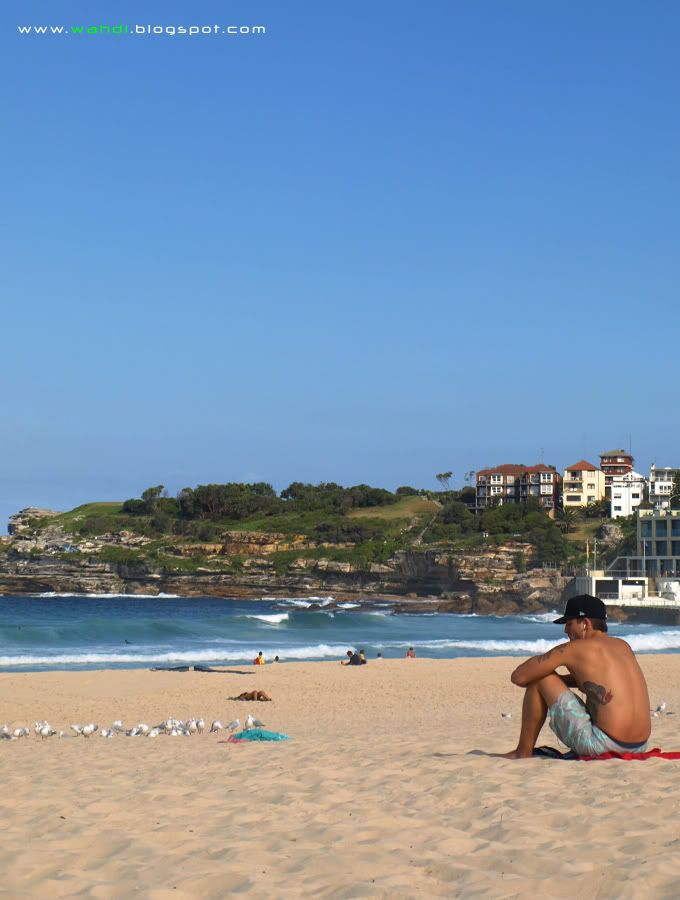 Our view to the right...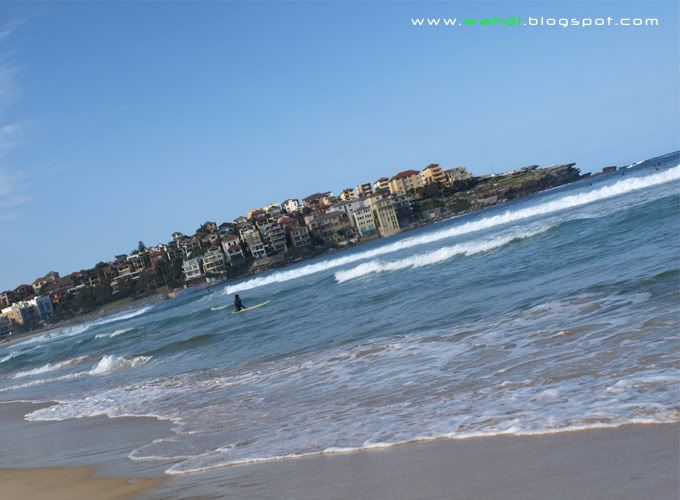 and to the left...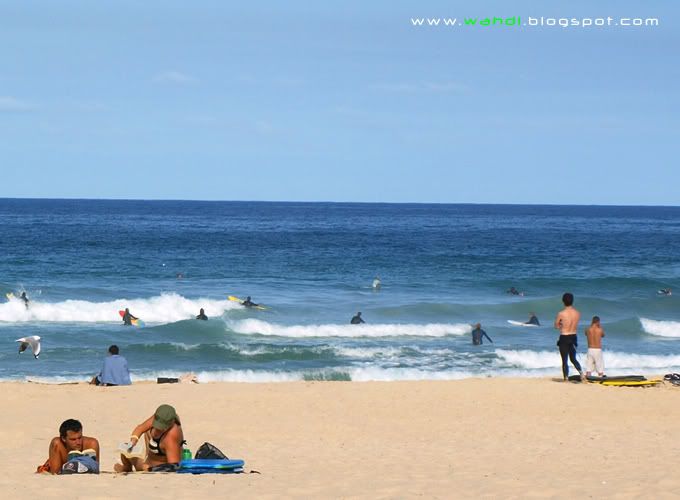 Here is a great spot to spend the day. The other spots were just too quiet...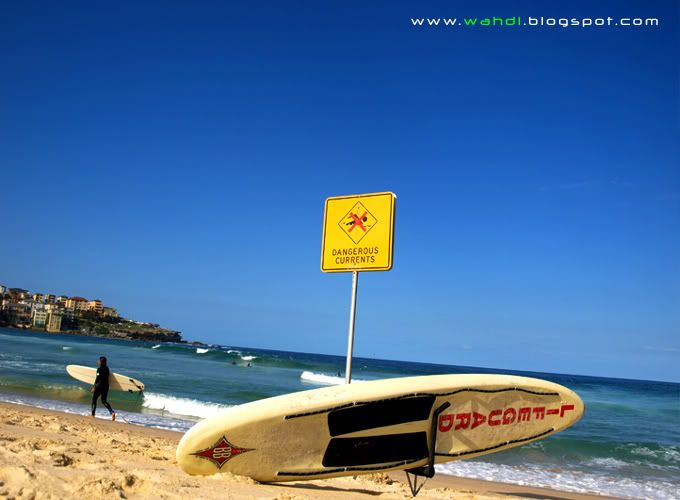 I have a lot of surf pics, will share later in my Flickr, OK? But I must select the best ones first ;) Btw, no more topless pics of me. Don't want it to turn out like what happened the last time! :P
*Bawah ni ada clip I kat Bondi ;)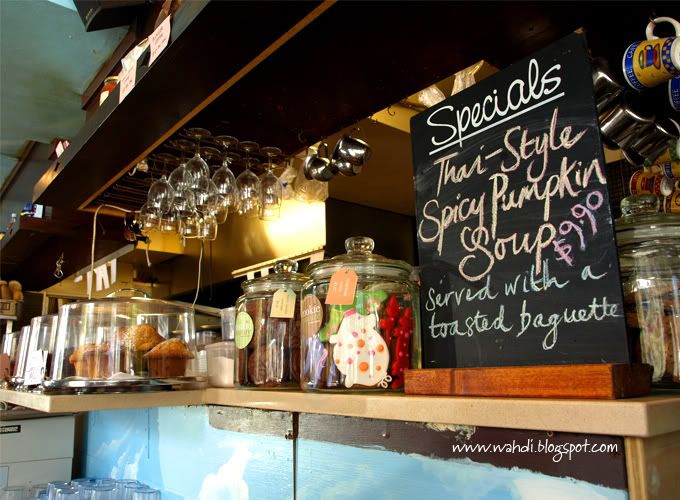 We had a great time at this cafe during coffee break! Owh, what a great cafe... Stay tuned!