Tired
KL -> Malacca -> KL -> Malacca -> Johore -> KL
I just woke up after long nap... was really tired after long-haul driving trips the past few days... that's the route stated up there earlier...
I had gone home to Malacca to fetch my dad, and to bring him to the Darul Syhifaq Islamic treatment centre in Bangi, as he was suspected of a spiritual witchery curse...pity him, dah lah sakit lutut kena pakai togkat + kena plak benda mcm tu... ni lah org malayu kita yg suka dengki dan cemburu tengok kejayaan org lain, main benda2 bukan2 utuk puaskan rasa cemburu...
Kalau korang kat public tetiba org datang salam tu kena hati2 yer..nanti jadi mcm my dad, org transfer benda bukan2 kat dia...mulai hari ni i tak akan salam org i tak kenal, biarlah dikata sombong etc...alhamdulillah my dad is o.k now, cuma lutut dia masih sakit...
We managed to ride on Malacca's latest attraction - the Taming Sari observation tower ride with my two nephews... Here are some pics for public viewing..
*tambahan :
Tower ni sebiji mcm kat sentosa island tu, dan berputar 360 darjah kat atas... tapi takde le label carlsberg besar2 mcm kat sentosa tu ;)
Kalau harga tiket yg dipamerkan kat kaunter RM20 utk dewasa dan RM10 utk kekanak dan warga emas..., sebenarnya itu harga utk bukan warga Malaysia ;)

Untuk rakyat Malaysia tunjuk i.c korg yer..so harga tiket RM10 untuk dewasa dan RM5 utk warga emas dan kekanak ;) adalah 5 minit atas tu...dan better dari eye on Malaysia yer! ;)

A short walk from Dataran Pahlawan to the tower...

There's the tower,

The kids while waiting for their uncle to buy the tikets at the tiket booth behind...

The observation deck going up...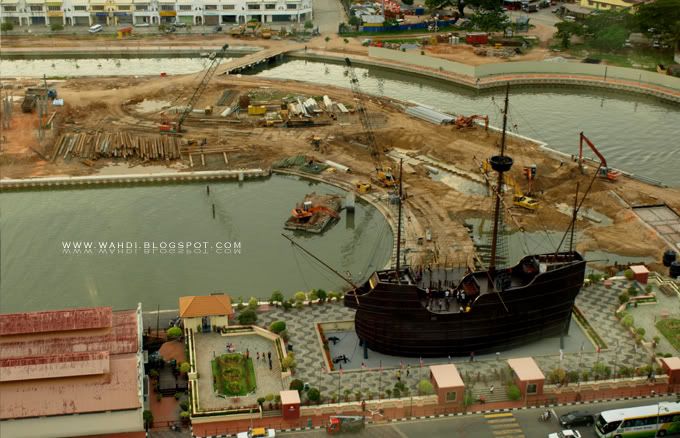 Another Malacca's tourist attraction taking shape...

Never thought Dataran Pahlawan looked like a space ship from up above...

Beautiful sunset beyond the horizon...

Afif picking out a UFO (Unidentified Floating Object) from the spoonful of prawn noodle soup...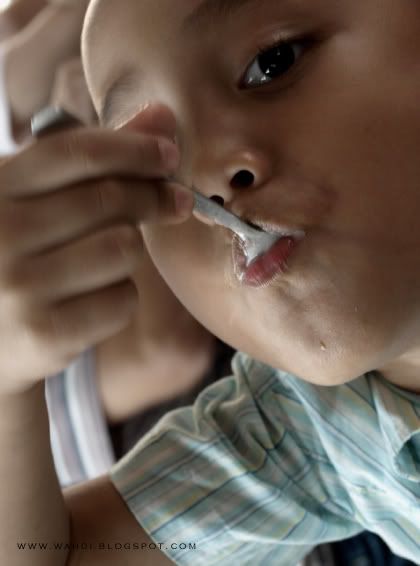 Ahhhh.... An ice-cream after the breathtaking ride!

Uncle with his new Starbucks Destination Bearista Bear...