Com'on... Be rational!
I came across a few blogs which uttered some illogical statements about one of my favourite shopping malls, Pavilion... Below are the statements from those blogs but I take the the liberty of not mentioning their owners' names:
1- "TAR said if u need to shopping at Pavilion or garden, u need at least 4-8k to shop there" *sorry leng chai u tersenarai!!! :P
2- Baju batik je dah 4k, kalau nak shopping kat situ mau2 kena ada ribu2, nantilah tunggu gaji aku 4k baru aku shopping situ.
3- if u dont have at least 4k u dont need to go to Pavilion
4- u must to get ready to swipe ur credit card if u want to shop there.
5. wallet je dah mencecah ribuan ringgit.
6. first time aku jejakan kaki kat Pavilion...Nanges masa jalan dalam tu semua kedai mahal2...
7.Pasaraya yang baru dibuka di Kuala Lumpur menempatkan jenama -jenama mewah
*petikan dari NANA on Era FM untuk soalan bagi segmen seribu seminit
8.Pavilion? kayanya ko shopping kat situ? *ayat my friend.
9.Manalah aku mampu nak shopping kat Pavilion tu...*another friend's statement.
10. Ko gila nak suruh aku beli baju kat situ (Pavilion) *another friend's statement
... and a few more whose URL I have forgotten. Neither do I remember their statements... I am sure u guys have bumped into such similar statements...
I think Pavilion has been designed for shoppers of all background! Everyone can afford to shop and dine there... Com'on people be rational!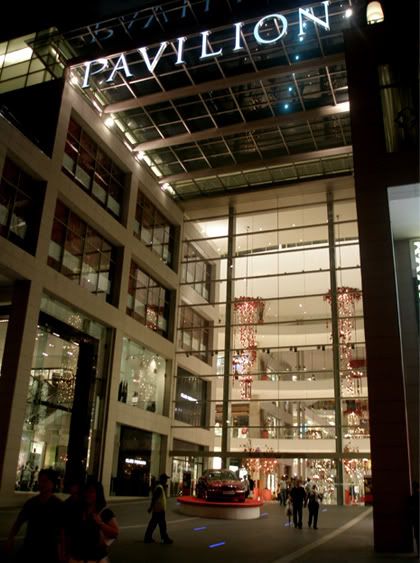 The Pavilion
From cheapo boutique like Bossini to designer labels a'la Burberry... Dining? There are various eateries! From KFC to Carat Club, not to mention the fantastic food court downstairs...
And middle-class deparmental stores like Parkson and Tangs, and lots of fun and affordable names... So, why would some people make illogical statements like that?
By the way, it all lies in your budget, to shop there... not only Pavilion, but everywhere else! You can still get what u are looking for... The key to getting them is to spend smartly, and know your purchasing power and budget.
To me, Pavilion is just another One Utama, KLCC, MidValley Megamall, and other malls in Malaysia... with one exception - the one and only StarHill gallery... Now, that, is another story!