Ayam Sedap, people!
I fell asleep after gym last night, and woke up in the middle of the night... as I opened my eyes and looked around, the tv was still on, and Nadia AF6 was performing the song "Total Eclipse of The Heart'... still sounded beautiful although they have been repeating this weekly concert for do many times... Wow! I luv her voice so much! It has a kinda weird tone, but pleasant sounding to my ears. To me, she is naturally gifted... AFUNDI Nadia! Errr... why must we waste our money to vote them? :P
I woke up feeling so hungry, since I only had laksam for dinner but worked out extra hard. So I worked up the kitchen right after another AF girl performed her song - she wore a purple knee-length costume that looked like a brinjal?? LOL...
This time, I had fried chicken breasts marinated in mushroom. Mum had always told me that I am the only one in the family who could fry chicken perfectly and make the, taste delicious! She always said, ayam sedap! Yes guys, Ayam Sedap! That's what mum said, OK.... I didn't say it! ;)
Below are the pics from the kitchen last midnight...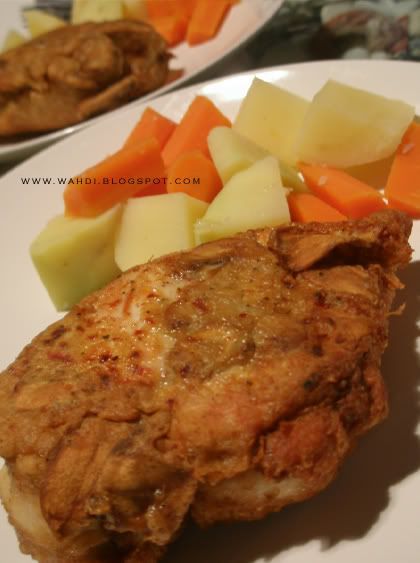 Pics taken using my compact Olympus U810
Wanna try my recipe?
Marinate 2 boneless chicken breasts with salt, black pepper and dried chilli flakes..
Break one egg over them...
Throw in sliced champinon, a few pieces of sliced cheese and sprinkle some flour for crusting, and then fry in olive oil... Easy? That, is my own recipe, guys!