I'm very happy today!
I'm very happy today, and I feel like shout out loud to the whole world that I'm the happiest person today! Am I am very proud of it!As I type away at the keyboard, my face is beaming at the monitor screen almost like the icon below ;)
Before I tell you guys why I am so happy, let me share with u something... I knew about the
Happy Contest
a quiet momments via
nuffnang
but I was not interested in participating, since the contest needs u to upload "any happy moments" to win RM5k in cash!!! As I don't have any really happy moments, I didn't have any reason to participate...
That is, until today... I'm very happy today!!!!... so I decided to participate in the contest today!
Unknown to many, I used to develop an allergy reaction everytime I eat seafood, especially prawns. Yes guys,... PRAWNS, the most delicious of all seafood!
If I sip even a small spoonful of seafood tom yam, the next morning my lips will swell almost like I've just got a botox job done!:P ... On top of that, my whole body would itch and develop spots. And that's just by sipping prawn soup! Can u imagine if I were to eat the prawn?
Everytime I went to the clinic, the doctors would say I've got an allergy reaction and that I must stop from eating any seafood, except fish *sad*
But while reading an article on muscle-gaining in a book, specifically about the benefits of green tea, there was a line which said:
"Green tea can also get rid of the toxin in your body... those who have too much toxin in their body, will automatically develop allergy reactions everytime they ate seafood, since seafood contains a lot of toxin!! By drinking green tea every morning, it helps you to reduce the toxin in your body...!"
So, I have started drinking green tea consistently every morning for the past two weeks. And last night, when I was in Malacca, I ate as much seafood as I wanted - butter prawns, grilled mussels, grilled crabs, and friend squids, and u know what??? When I woke up this morning, I didn't develop any allergy at all!!! No more hysterical shreiks as I stare into the mirror and see Angelina Jolie's lips on my face! Those of you who have seafood allergy, you better start drinking green tea NOW!!!! hehehe!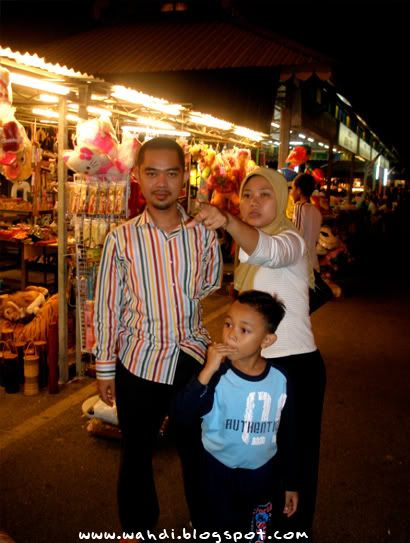 I suka pic ni, my sis sibuk pilih gerai mana, i sibuk posing he he he
En Arip and Aiman...
I tunjuk mana i nak, my sis yg ambikan..he he he
Udang~ kat pic ni nampak kecik2..
Kerang yg o.k2 je...pic lain tak sempat ambik sebab dah lapar busy melahap sampai terlupa nak snap!
the day before, while I was driving along Jalan Bakri in Muar on Sunday,I saw a lot of posters of my cousin Kamarudin bin Hj Suratman, who is contesting for the DUN of Sg. Abong in Muar this coming elections. Those voting in the Sg Abong area, please vote for him! ;)