Choosing durians.
As a young person ;) I am inexperienced in choosing durians. How many of you are good at selecting durians? To me, buying durians is job which belongs to old people :)
There too many types of durian on the market, some which come with specific codes and special names, some are crossbreeds... I really have no idea which is the best! And I never bother taking note of their names!
But I luv eating durians! Of late, I have only been buying the peeled ones, which are sold in ready-to-eat styrofoam containers... When I was a kid, dad has his own durian orchard, and his kids just know to eat them! ;)
He has never bought any! Sometimes, he would get huge basketful of free durians from his friends. As far as I could remember, I had only bought unpeeled durians once; about 2 years ago... And last weekend, while heading to Muar, Aiman and Afif asked me to buy some for them.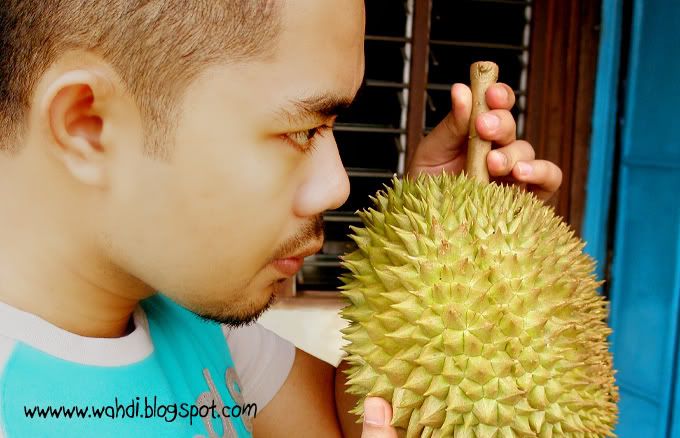 Once at the stall-shop, I asked the uncle (the seller), which type is the most expensive he had on sale there? He showed me the long type and told me that it was a D24 (a crossbreed fruit) and the price was RM8 per Kg... while the rest were durian kampung, he said.
The uncle sounded sincere, since I understand a bit of Hokkien. I heard him telling his wife to get the best ones for me... so I asked him about the easiest way to choose durians...
He taught me one of the easier ways. Just use your nails! Put four of your fingers on the durian, run the surface of your nails from the top of the fruit to its bottom. If you hear a hollow sound, as if there is empty space within, then that's a sign that the fruit is good! But if it sounds muffled, it's a sign that the fruit isn't ripe yet!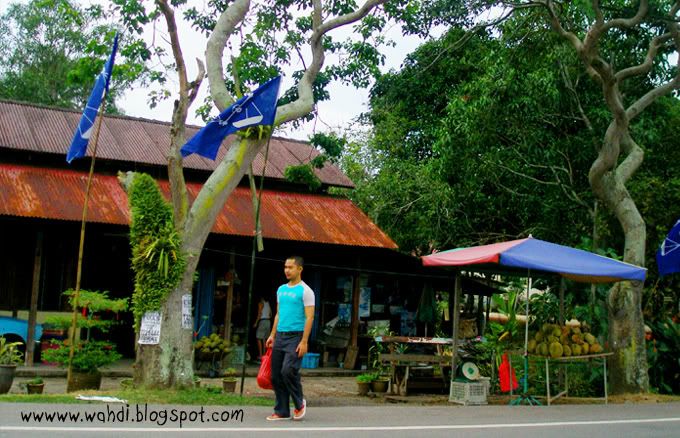 And it proved to be correct! All the durians I bought from him were in superb condition! Thank you uncle, for that special tip!
And just when we thought we have had enough durians, Aiman and Afif's dad came back from JB on that night with a big basket of the same fruit, which he had picked up in Tangkak...*merasa makan tak hingat