Boiling Point at GSC ;)
Yesterday, I had gone to Bukit Bintang after work... Since today and tomorrow are public holidays, I thought of celebrating thehe... I luv macarons so much! And a friend recommended that I try out those at Izzi, Bukit Bintang... Had dinner there, but the macarons looked so plastic! So, I thought they wouldn't taste any better than they looked, and decided not to get any... Bakerzine;s macarons look much more tempting...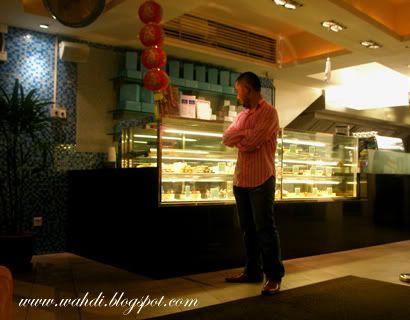 The macarons. Not nice to see, so who would want to buy?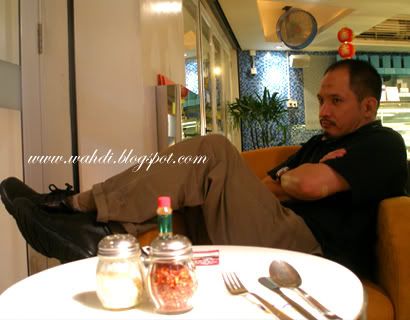 En Arip was so flat out after work, but still wanted to celebrate the holidays :)
We managed to watch a midnight movie: Meet the Spartians at GSC Pavilion. Haiyoo the movie sucks big time! Only 2 stars for them... I would anytime prefer the sequels of the Scary Movie series...
And while waiting for the movie, we did some lepaking at my favourite Starbucks outlet in Bukit Bintang, while enjoying the nice views of the night life, with some Lecks-lecka ice cream I managed to bring into the Starbucks (as usual!)...
Having Lecka2 in Starbucks..yummy
Luv this view so much!
So we had doggy-bagged two cups of hot latte to bring in to the cinema. I know they would not allow outside food...:) but I had always succeed in smuggling in stuff hehehe... I bought some pop corn, whipped potato, a stick of Mentos and a bottle of mineral water from the cinema's snack outlet...
And while passing the cinema entrance, the usher stopped me, while En Arip was already much ahead up the excalator, not aware of me being harrassed. And the usher asked me:
GSC Usher: Is that a Starbucks?
Me: Yes, my latte from Starbucks..
GSC Usher: You are not allowed to bring in outside food, Sir. You must finish it first before you enter.
Me: What? You want me to finish my latte here, then miss the start of my movie?
GSC Usher: Yes
Me: What if I still want to bring it in?
GSC Usher: Cannot sir, this is company policy. You have to leave it at the counter. We will keep it for you.
* I really like to deal with situations like this... just to test them :P
Me: But I had bought some food from YOUR kiosk as well? I still cannot bring my coffee in? Do you guys sell Starbucks here?? *pretending I didn't already know why no outside food is allowed in!
GSC Usher: No, sir.
Me: Then why can't I enjoy my movie with my favourite coffee?
GSC Usher: Sorry, sir.
Me: So, what are you guys going to do to me? Sue me? Call the police, because I bring in an outside drink?
GSC Usher: No sir, we won't do that, but we will refund you.
Mme: What is the main reason??
GSC Usher: It's already stated at the notice board.
Me: Yes, I am aware, but why?
GSC Usher: Company rule...
Me: So I can't bring my coffe with me, right? O.k... I want you to hold my coffee beside me the entire movie, since you don't allow me do it.
GSC Usher: We can keep it ouside sir. *face already red, at the brim of an explosion
*By now, En Arip realized I wasn't behind him, and came to me.
En Arip: What happened?
Me: They do not allowe me to bring in my coffee.
GSC Usher: You can leave it here outside, sir... We will keep it for you. We will be responsible for it.
En Arip : O.k, I want you to hold the coffee here, and don't go anywhere. Make sure you stand here until the movie ends. (and pushed the bag of two latte into the usher's hands before walking off!)
GSC staff took hold of it and got speechless...
Do you think what we did was cruel? ;)
p/s; We had just wanted to see how good their PR skill was! Huhuhu
Boing Point's time limit: Five minutes
Result: They passed!