Angry!
On Saturday, both En Arip's and my mood were a little spoiled by an SMS sent by someone intentionally to snub and chide En Arip but in a way, affected me as well. I always get really mad when someone says bad things about anyone without any proven fact, and accuses as he or she wishes... And then, when they know the truth and that they have been wrong, all they did was just say an easy word of sorry???
Yes, I am really angry until now. How easy for you to judge someone who didn't say anything abt you, I better stop here... Lucky thing I have been a witness throughout the misunderstanding, and know the whole episode of events! This is my blog, my own space, to share my feelings and thougts, with the hope that by expressing myself, it helps me release a bit of my anger...
We had wanted to go out early Saturday morning, and take in a slow, relaxing day... But that SMS really ruined our day and plans... En Arip was so annoyed, but as usual, kept things to himself! Day ruined!
So En Arip and I had only gone out very late in the evening, to Pavilion to watch a midnight Chinese movie, CJ7 as planned since last week. The movie was great for entertainment... yeah, just as good as it did, releasing our tension and anger...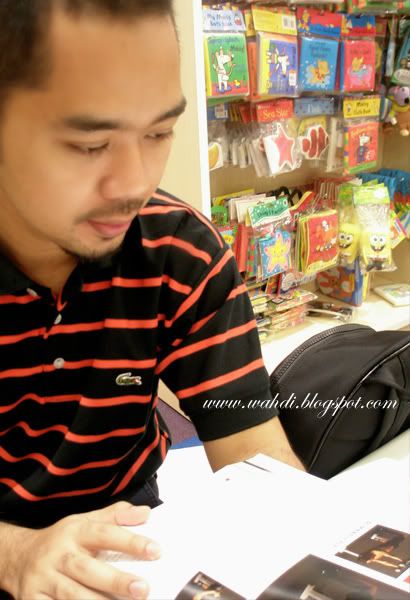 Feeling like little boy, reading some books among some kids at the Times bookstore, Pavilion. I didn't have that kind of oportunity during my childhood... Yeah, bookstores in 80's were so boring...
Joined the long queue at J-co to get some donuts... and this one reminds me of Shrek! It made me feel like eating a part of Shrek's body.... LOL
And donut-monster En Arip finished almost a dozen by himself! *Look at the size of that donut in his hand! How big is his hand! hehe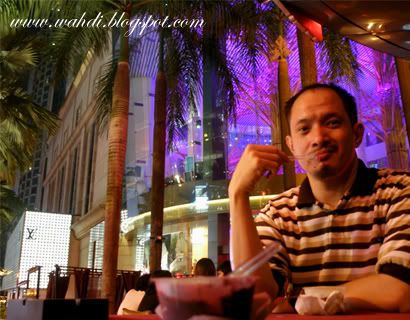 The perfect oriental setting ;)

While waiting at Starbucks for the mid-nite movie to begin, spent some time to discuss with En Arip, regarding our interior and landscape project which has been abandoned since mid-last year... For those who didn't know, I used to work as a landscape and interior designer before moving to the multimedia field... I still need to do something with it, since my passion in interior and landscape is still very much alive!
I spent some time to edit, render and upload a short clip to YouTube. It is a clip from a tv show, Casa Impian, which they taped while I was working on one of my clients' project about five years ago... At that time, I was only 22 years old, have designed many outdoor living spaces for many VVIPs, local celebrities, as well as ordinary, men on the street... and the experience is so precious and lasting! Enjoy the clip!