Adik Sharlinie
Thanks to
Xes
for the pic below... I saw this pic in his blog after I traced his link from feejt...
Yeah, I'm happy my edited pics are being used in the right way, in helping the search for Sarlinie, unlike some other people who used my composite pics for extra income...I am very much like other Malaysians, still waiting for some good news on adik Sarlinie...
xes took this pic at the Sabah Court House in Kota Kinabalu.
I'm going visiting my parents in Malacca and Muar tomorrow after work... Can't wait to enjoy the ikan bakar under the starry night sky at our usual place when we reach Malacca... And not forgetting having breakfast at the little shop by the kampung the next morning...
And of course, can't wait to eat my mum's cooking... betik muda masak lemak, her fabulous sambal belacan, sambal tempe, batang keladi masak asam, tempe goreng berempah... uuuhhh I better stop here!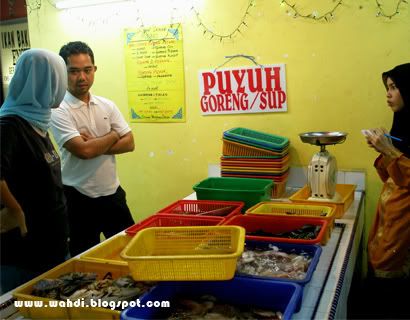 Pic from a previous trip to Malacca. The sup burung and fried burung puyuh at
this uncle's stall were amazing! The location of this stall? At the Pulau Besar jetty, I think... I'll find out tomorrow night ;)