I Hate New Years...
To be honest, I hate new years...
Another new year, another year older! Uwaaaaaa! :P
That's why I hate new years! ;)
But in reality, I still appreciate the new year... :) Another year to be better than the one before... I had never made new year resolutions; I only pray for a good year... I pray for good health, for my family and those I love... and be protected from all evils... Amin...
I had just received my new year gift from En Arip. Thanks, En Arip, for the lovely gift...
Last Saturday evening, I had gone to SBUX in Bukit Bintang, and saw a beautiful SBUX poster... And today, I got a SBUX T-shirt with the very same artwork printed on its back!!! Thanks once again En Arip! He said he had bought the shirt through his favourite barista... Hmmmm....
The poster I saw that nite...



Nice! I luv Vespa....


The front of the t-shirt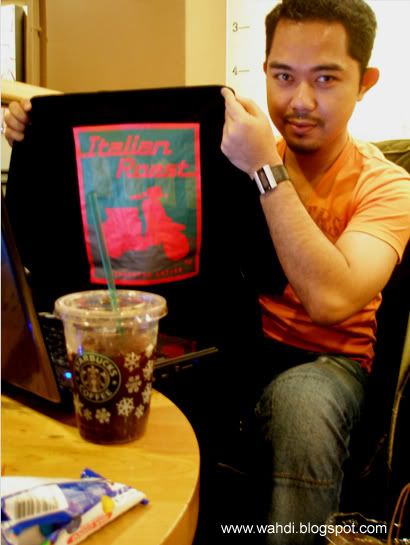 The back. Nice!!!

Thnx again En Arip....

to All my blog readers, Wish you a Happy new year!
thnx for the new year wishes!