Vitamin C cookies...
I had planned to bake three types of cookies today... But after running around renewing my car insurance and road tax, I had instead concentrated on sending the car for a thorough check up and total servicing, in preparation for the balik kampung trip this raya... I ended up very tired, and managed to only bake two types of cookies after zohor prayer: Vitamin C cookies for my nephews, and Coconut Cookies.
I had just finished glazing the bear-shaped Vitamin C cookies. But for the Coconut Cookies, I've finished baking them and am now designing sketches for the decorative part... I will work on the finishing tomorrow...
I made the colorful glazing from fresh orange and calamansi juice, and added some sugar.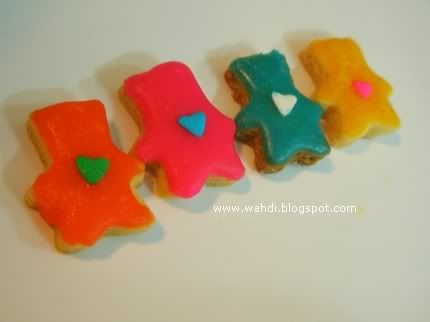 Hope the kids will like them!




Was thinking of putting nose and eyes for the tiny bears, but there are more than 100 pieces! *tak laratlah nak lukis seko2 hehehe




Will put the final touches by tomorrow... *mamai nak titun