Part II of Mee Siam Singapore...
My mind is still on the Mee Siam "kosong" which the cafe called "Singapore Fried Mee Siam"...
I've never been so disappointed about my food... I am not hard to please, and I do not mind paying extra if the food satisfied me... And neither do I complain if the food tastes bad or is tasteless... but yesterday's incident got me really mad, since I know the actual material cost to make that dish, which shouldn't be more than 50 sen. I got really mad because the price they charged was too exorbitant for such a measly plate of mee...
The amount of noodle was too little to begin with, and to make matters worse, there was only a dice or two of tofu and one half of a boiled egg. Just that! How can somebody possibly sell something like that? It was really cut throat!
Me at work while waiting for buka puasa... I was really busy...




Making sure the measurements of my design are correct...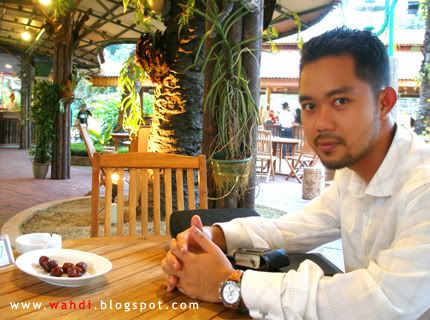 Excited to break fast!But was disappointed when the ffod came!






This is the dish in question! Mee Siam + some gravy + two dices of tofu + half an egg + calamansi + some sambal (no meat at all!) Five scoops, and you're done!






Guess how much I paid for this measly plate of noodle? If you guessed right, I'll buy you a meal!~ heheh