Longan Ley~
Demam Longan...
While hanging out at the kopitiam behind the gym after workout with En Arip, (*with no incidents like yesterday...), he asked how many kilos of longan have I eaten this week...
I started calculating, based on what I have bought so far... On the way back from Muar to KL, I bought 5 kilos for us, and 2 kilos for the younger brother...
Fruit stalls can easily be found along the new Muar-Malacca hi-way...






The duku-langsat tasted good... really sweet!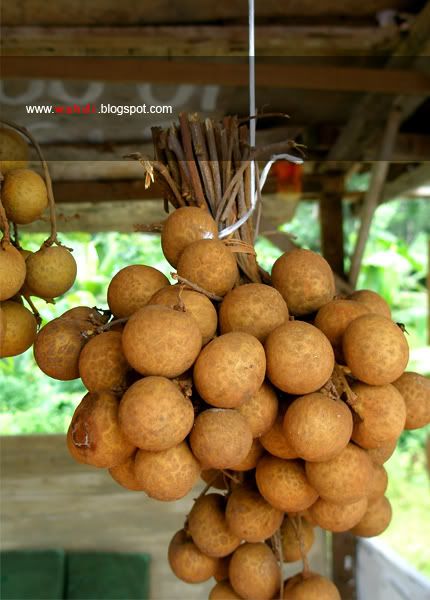 Cheap! 5 kilograms for MYR20! But this bunch is not the best *kena pandai pilih lah...



I ate almost 2.5 kilos last weekend while driving back to KL... Bought another 5 kilos from the stall at Masjid Jamek two days ago.. and yesterday, another 4 kilos from SOGO supermarket.. and after maghrib prayer last night, I finished them all with En Arip...


So in total, I have eaten about 7 kilograms in this week! OMG was that an overdose??? Hmm... I am just wondering, since pinky (a regular blog reader) said longan is rich in sugar???






While waiting for our meal, I forced En Arip to be my model. En Arip just followed any direction given to him, hehehe. I was merely practising shooting of human figures... and here are the pics ;)