I Love Chipster!



Remember yesterday's picture (above)? Actually, I don't really like potato chips that much... When I was doing my grocery shopping, I bumped into this new potato chips from Twisties... My favourite snack since I was 5 years old, has been Twisties' Corn Snack BBQ flavour... my all-time favourite!



Simply delicious~


I luv it so much, even now! So, when I saw the Chipster at the hypermarket, and noticed that it's from the same brand of my favourite snack (Twisties), I thought Chipster is gonna be as super-duper delicious like any Twisties corn snack... Naturally, I grabbed a big pack of it, in sour cream flavour! And the result? Mmmmm... extremely delicious!!!! Slowly, but surely, I'm becoming a potato chips lover! ;) Hey guys u must try it!!!!

And today, I bought another 3 packs of Chipster before taking the train home. I bought the different flavours: Original, Hot and Spicy, and Sour Cream... Yeah, they are absolutely delicious!! I luv all the three flavours!

I went searching more about Chipster on the Internet, especially wallpapers; and you know what? I found the official Chipster website here http://www.chipster.com.my/



The contest...



This website is so funky and cool!!!! You must visit it, guys! And they are now running a contest... What contest? You have to find out yourself!

I've participated. I snapped a self-pic with my chipster, and uploaded it onto the website. I had chosen the most matching background from their templates and threw in some text too!.. And here is the result! Ta-daaa!!!!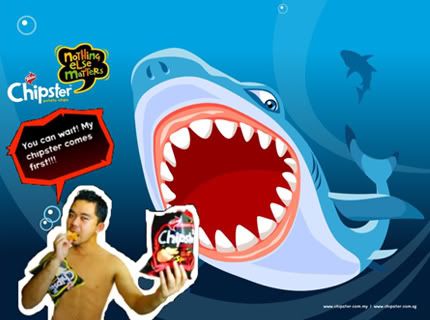 Yeah, it wasn't easy to crop my pic on the website; but to me, challenges are what I like most!


Nice rite??? If you like, you can vote for my entry on the same website, but they have not uploaded my pic yet... It's still pending their approval... give them some time, OK? ;)

You guys also can participate, to win fabulous prizes or just for the fun of it :)
Go get your Chipster and camera, snap a pic and then upload it!



The prizes to be won...




--- Today's News Update! ---



Chipster had just uploaded my picture onto their gallery in the website, yeay~~~ and you can vote for me and other contestants if you like their picture composition! http://www.chipster.com.my



VOTE FOR ME!!!!! ;)