Quiet Sunday
I did not go anywhere today... En Arip was at the mosque from early morning till late afternoon. He attended a ceramah-cum-forum regarding Islam and its current-day challenges. So, I did not have a friend to go hang out somewhere...
But early this morning, I managed to hit the gym with En Arip before his mosque function... since the crowd was not big, I had the chance to explore some machines that I've not used before.
I had never used this machine... but I'm beginning to like it...



After gym, did some laundry at home... The past week, I had sent all my dirty clothes to the dhobby, and u know what happened? Some cute birds have weaved a nest on my clothesline! I had no choice but to destroy the nest, since I needed to use the clothesline :(




See... One week of no laundry, the birds moved in and built their nest... Doesn't it look amazing?





Joined En Arip at the mosque at the noon. I luv the wall deco in its day mood...



I'm planning to go to Singapore next month to get something, and if this "particular thing" is successful, I'll will be celebrating it in Singapore... I pray and hope this "particular thing" is going to successful... I expect to get the result by middle next week... Insya'Allah..




If I'm there, I must get some new NUM tees, which is in my silver mood shopping list... and a few other stuff, too! Yeay~ time for shopping~ *pic taken on my last trip there in March this year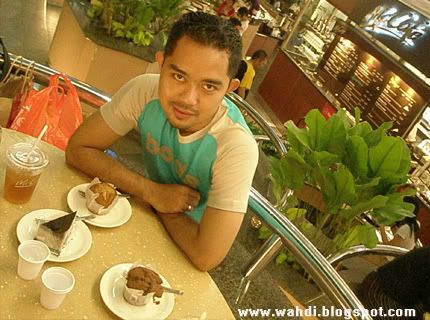 Also, I can't wait to eat as much as I want, my favourite McCafe's muffins...yummyy~~~