Spaghetti with Shiitake Mushroom
As requested by Anne, I am sharing my original Spaghetti with Shittake Mushroom recipe. Do try! :)
Shiitake Mushroom..



Ingridients for the saute:

One yellow onion (chopped)
One tomato (chopped)
One potato(chopped)
Carrot (chopped)
Minced beef

The Pasta:
Boil the spaghetti for 15 minutes, but do not overcook. Remove from boil and strain. Add one teaspoon of butter to the spaghetti.

OK, let's start the cooking...

Saute the chopped onion and potato with some olive oil (or any cooking oil of your choice), and add the tomato and minced beef. Saute for a bit, and add the chopped carrot. Add two tablespoon of water...

2) Add one table spoon of oregano. If this is not available, replace it with black pepper. It's just as nice! Add a pinch of salt and sugar.

Dump the (still warm) spaghetti into the saute mix, and add moist Shiitake.
Mix well.




This is how the Spaghetti with Shiitake looks like when it is done... Sorry for the blurry image.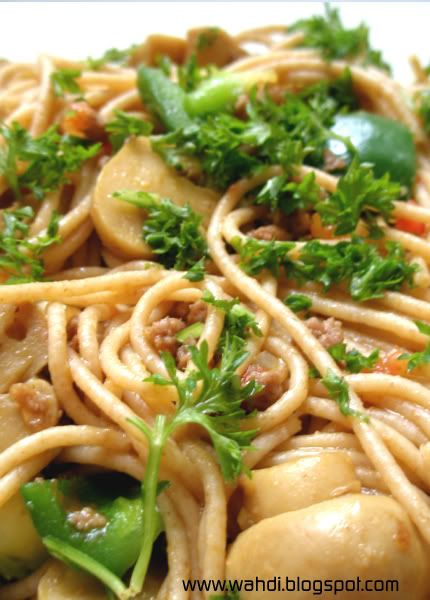 This dish is cooked the same way, except that it is cooked with button mushroom and capsicum...


Labels: recipe