Little quaint cafe
I spent the last weekend with my family in Malacca, at my sister's place. On Sunday morning, En Arip and I took the trouble of driving several kilometers down south of the country just to have the best coffee in this particular small, cowboy town. This cafe is En Arip's favourite joint. It is very famous in this town, most likely for its own, distinct roasting process... and they do produce very exotic roasts. They have their own house roast... something exclusively theirs and theirs alone, in taste.
For true coffee lovers, this is the "mecca" for their cuppa brew! On display are coffee paraphenalia, and a piece of self history (well, self-worshipping? But they deserve the extra pat on the back!). They started way back in the early 1950s... Visitors to their outlet also get to see their packaging process, well tucked into an obscure but very welcoming corner... just so that curious people like En Arip get to understand what goes into a good pack of coffee powder. Although they have a big processing and packaging plant, they intentionally put this corner in showcase... and offer a real, fresh off-the-mill packet of ground coffee... Any fresher, you would have to stand next to the roasting oven! For a more in depth look at this cafe, let's wait for En Arip's coffee blog!
Isn't it quaint?





May not be your regular Starbucks, but definitely has its own presentation style...





Antique coffee paraphenalia, well-kept and displayed for the viewing.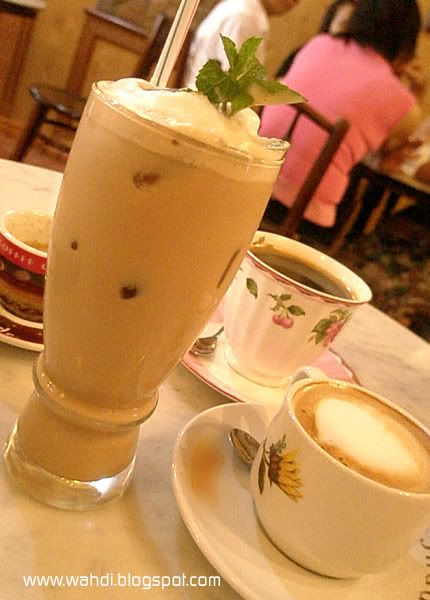 We shared four different brews... How marvelous!





My favourite! ice mint coffee





En Arip trying a Monalisa expression and impression...hehee





The cafe staff packing some fresh ground coffee


Labels: Coffee